One of the most memorable days in one's life is their wedding day, a day filled with lots of joy and happiness. Each moment of that particular day is precious for the couple, as it marks a new beginning in their life. Weddings can be tailored to the wishes of the couple, allowing for both grand celebrations and more intimate ceremonies.
Weddings are more like grand celebrations, with the bride and groom dressed to the nines and relatives blessing them. As a result, planning a grand wedding entails a variety of factors, some of which are stage decor, wedding table styling, floral arrangements, seating arrangements, invitations, and so much more. Flowers and Styling by Felicia has a team of professionals who excel at designing wedding tables and bringing an aesthetically pleasing ambience to your wedding with beautiful and fragrant flowers.
Read more about:
How Does Wedding Table Styling Create a Lovely Atmosphere for Your Weddings?
Planning an event, no matter how modest, is a stressful endeavour. It is even more stressful in the case of a wedding because it entails perfecting every single detail. Everything from the venue to the stage decorations to the table settings and flower arrangements must be well-planned for your big day. Why should we put more thought into wedding table styling?
The first and foremost advantage of wedding table styling with flowers and other decorations is that it imparts beautiful and enchanting vibes to the entire ceremony. Flowers and wedding decor for wedding tables are often chosen to complement a specific colour scheme, which has become increasingly common in modern weddings. More often than not, pastel-coloured flowers are chosen for weddings because they express the pure joy and happiness of the newlyweds.
Centrepieces for wedding reception tables now come in a wide variety of forms, including miniature bouquets of flowers, cosy candles, adorable miniature bottles, gift cards, and more. Laying a pastel-coloured tablecloth on the wedding table, along with cute centrepieces, defines the overall atmosphere of the wedding. Colourful hues may be used to convey the wedding's celebration spirit, while pastel tones are more indicative of the wedding's cosy, romantic atmosphere.
Wedding table styling entails placing centrepieces and laying pastel tablecloths, as well as the proper arrangement of cutlery, chairs, table runners, and so on. This demonstrates how well you planned your wedding and provides something for your relatives to talk about. Something your relatives might be captivated by.
How Can You Design Your Wedding Tables?
Not a brag, but brides often obsess over the fact of getting married and the wedding decors. The wedding venues, centrepieces on the wedding tables, floral arrangements, linens, and much more—this particular scenario is very well evident in F.R.I.E.N.D.S., where Monica has her dream wedding ideas. So that's how important wedding table styling is to bridegrooms. After all, the primary aim is to create an aesthetically pleasing environment that can bring happiness to your dear ones. Now how can you design your wedding tables? What are the wedding essentials and little crafts you can add to your wedding decor?
Before delving into the specifics of the wedding table styling, you may decide how many of your loved ones will be present at the ceremony and what options you have for the wedding table. Depending on what matches your wedding, you can choose a round, rectangular, or square wedding table. Later on, you could eventually add little decorations to this wedding table. The following are some ideas for additional wedding table decorations.
The primary step in wedding table styling is laying the right linens. These linens set the whole ambience for your wedding ceremony. Based on the theme of your wedding, you may select table runners, tablecloths, and napkins. As a result, everything works perfectly with each and every element.
The table settings are the foundation of your table styling, which includes the proper placement of flatware, plates, and others. Most venues provide these supplies, but to get the ones that match the theme wedding, you will need to look for the right flowers and stylists who can help you.
You're probably wondering what wedding stationery is. Is it the invitation to the wedding? Well, these are the name cards, menu cards, seat numbers, etc., that will help you organise your wedding so well. This will assist guests in locating their seats and making them feel comfortable.
Centrepieces are the most significant and beautiful addition one can make while styling wedding tables. You can traditionally arrange them by filling the lovely vessels with beautiful flowers and other greenery. In addition, flowers and styling can provide you with various centrepiece concepts.
You may also embellish the chair to complement the wedding tables. Folding chairs, X-back chairs, and Chiavari chairs are some of the options available for your wedding tables. Extra seating comfort can be provided for wedding guests by placing pouffes or pillows on the chairs alongside this decor.
How about giving your guests complimentary gifts in the form of little surprises? You could place this little complimentary gift somewhere on the wedding tables so that as guests find their seats, they are greeted with these miniatures as a pleasant and unexpected surprise.
How Many Different Wedding Table Stylings Are Out There?
Just like there are different ways to decorate your home, like bohemian, industrial, French country, coastal, rustic, etc., there are different ways to decorate your wedding table. The following are some wedding table styling ideas that you might want to consider:
Boho Wedding Table Styling
Surely you're familiar with boho fashion. It's more of a mix-and-match style that focuses on or emphasises natural and organic elements. This is why you may find a variety of materials and finishes in this type of design, like metals, wood, and patterned fabrics. Those who wish to incorporate natural elements into their wedding could make use of boho wedding table stylings. You could create centrepieces by placing a piece of wood as a base and filling a vessel with various floral arrangements and other decors.
Minimalist Wedding Table Styling
The word "minimalist" tells you right away how simple the designs are. The clean and simple designs of minimalist weddings make them stand out from other styles. The wedding table styling utilises monochromatic themes, allowing you to design a classy wedding table. Silver flatware and simple place cards are a lovely combination for this wedding table styling.
White Wedding Table Styling
These weddings can be very traditional or very modern, depending on the couple's preferences. As the term "white wedding" implies, the predominant colours are pastels and whites. You incorporate more white and baby pink florals for your special day, exhibiting elegance and subtlety.
Rustic Wedding Table Styling
Rustic decor is warmer and more worn-in-looking. It can easily be described as a bit more of a bohemian style. The imperfect design creates a warm and welcoming atmosphere for the wedding guests, which enhances the aesthetic appeal of the style. In contrast to the minimalist, white weddings of today, this particular table setting is a throwback to the 1920s.
Round Wedding Table Styling
The majority of grooms prefer banquet-style tables for outdoor weddings. Round wedding tables are a much better choice for this kind of wedding style because they make it easy to set up the banquet seating. In addition, round wedding tables are easier to decorate with floral centrepieces, candles, and other embellishments. This lends a touch of sophistication to your big day.
The aforementioned are a few of the most popular wedding table stylings that couples typically choose. Weddings are now easily customizable, allowing couples to incorporate their own ideas into the previously mentioned styles. Flowers and Styling by Felicia is here to assist you in creating the wedding of your dreams by offering advice gleaned from our many years of experience as a premier wedding florist and event stylist.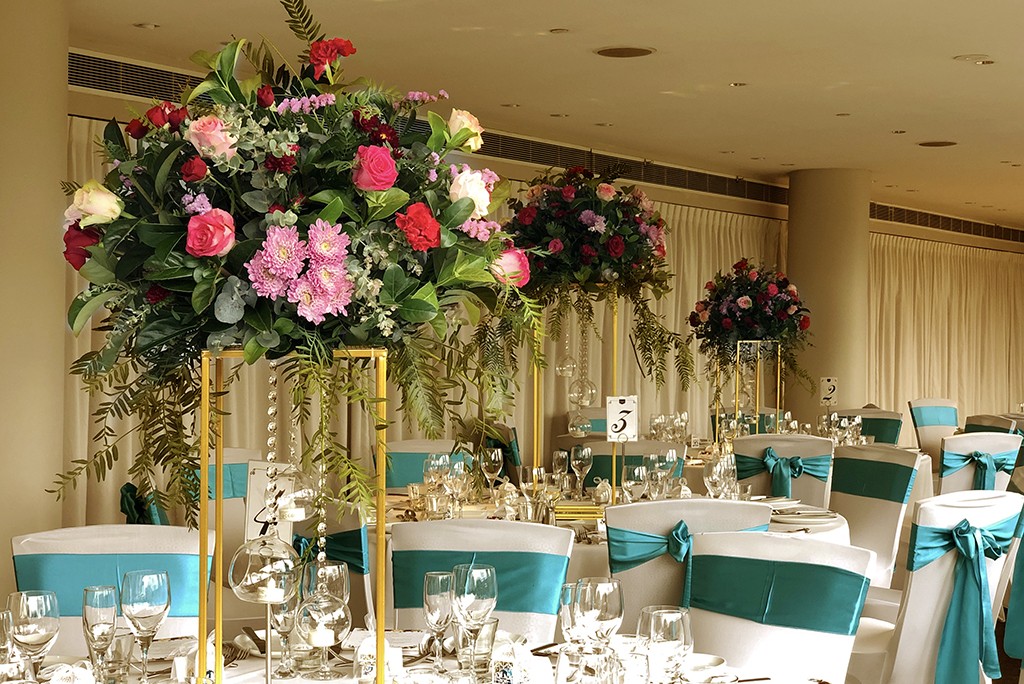 How Do We Flowers & Styling Design Wedding Table Styling?
The key to flawless wedding planning is always understanding the wedding ideas of our clients. Based on this concept, we design the entire wedding and style the wedding tables. We, Flowers and Styling by Felicia style the event and wedding tables in accordance with the client's visions for their special day. We make your dream wedding come true by using your ideas as a starting point for setting up the wedding tables. As the premier wedding planner and stylist in Sydney, we take pride in giving your wedding the most beautiful and aesthetic appearance possible.