Without the proper ceremony style, no wedding appears complete. Regardless of how understated your décor is, they could transform a special occasion into the enchanted, once-in-a-lifetime party of your dreams. Choosing the appropriate wedding ceremony stylist now demands much consideration and preparation.
The venue's stage, entrance, velvet fabric, and other features are all decorated for a wedding. A warm, celebratory mood is produced when all of these elements are present. A carefully planned wedding ceremony style establishes the event's theme and fosters a joyous ambience. All you truly need for your dream wedding is a wedding stylist or coordinator who knows how to transform an average venue into a stunning one.
Flowers & Styling by Felicia is a fantastic choice since they are well-known for their expertise and knowledge in ceremony styling around Sydney.
You may also like to read:
What Makes Flowers & Styling the Expert Choice in Wedding Ceremony Styling?
The ceremony will be one of the most memorable parts of your entire wedding. Your ceremony will serve as both the venue for your wedding and the tone-setter for the rest of your celebration.
Whether you're planning a casual outdoor wedding, a stylish inside ceremony or a vow exchange on the sand in your bare feet, Flowers & Styling has included some of their favourite wedding styling ideas for you below. They also provide expert advice on choosing ceremony decorations, hosting guests, and everything else you'll need to make your wedding truly stunning.
Scroll down to get ideas for your upcoming wedding from Flowers & Styling's tips for styling the ceremony and a few unique ideas for seating, backdrops, and arrangements for the day!
Ceremony Seating Ideas & Advice
Okay, let's talk about seats first. The chair you select for the ceremony might have a significant impact on the overall design and feel of the venue. Before deciding where to sit during the ceremony, think about the style of wedding you want to have. This might be a modern, rustic, bohemian, or classic wedding.
The oak cross-back chairs, for instance, will help you get a Tuscan feel, while the white bentwood chairs are great for a classic look that will never go out of style, and the wire Soho chairs will allow you to design a luxuriously modern space. If the seating arrangements for the cocktail hour and reception are, all the same, the event will "flow" better.
Not sure how many guests to invite to your ceremony? You don't have to acquire a chair for every guest since some will like to sit while others will stand at the back. The ideal number of guests to seat at a wedding is between 30 and 50 per cent, depending on the size of the venue and the length of the ceremony.
Don't forget to bring the chairs you'll need for the signing. You'll need a signing table, two additional seats, and a marriage licence to complete the ceremony. Some stylists will provide these items, but you should make sure they match the style of your ceremony before using them.
You may make a bold statement by using something like the natural peacock seats, or you can keep things simple by using the same style of chairs as your visitors. The statement chair you use for the signature may be used as a seat for guests at the reception or as an interesting prop for photos in the photo booth.
Tips & Inspiration for Lighting
Everything looks naturally beautiful when lighting is done properly, so you will only need to spend a little less on decor. The photos and recordings that serve as the celebration's official records also turn out great with the right lighting.
Tips and Ideas for Floral Decor
The freshness and vibrancy of a new life must scent and look like a meadow of blooming flowers. Flowers & Styling provides and arranges flowers aesthetically, whether they are artificial or real, in a way that best complements the overall design of the wedding. When it comes to enhancing wedding celebrations, floral decorations are fashionable. They make sure to give you the top products on the market, all of which will perfectly complement the ceremony's overall design and concept. You don't need to worry because they offer long-lasting flower arrangements that are exceptional.
Ceremony Backdrop Ideas & Advice
Setting up a ceremony backdrop is a lovely way to frame the location and establish a focal point for your wedding, especially if it will be held outside or in a large, open area. Backdrops also enhance the appearance of your ceremony photographs, and once the ceremony is over, guests adore using them for photo sessions.
Make sure the background you select matches your ceremony seats and the venue's surroundings. You may choose between a 4-post arbour, which is more conventional, or a circular Soho or gold Geo background, which is more distinctive. You may also use the white wire cylinder plinths of various heights to arrange clusters on each side if you don't want to obscure your view behind you! To finish the appearance, adorn your backdrop with some lovely flowers, greenery, or lettering.
Don't forget to email your florist the measurements and images of the background you've selected before the big day so they can plan and design the ideal bouquets to fit.
Other Styling Components
After taking care of the necessities, you may consider adding a few extra details to make your ceremony seem a little bit more personal. For instance:
books of vows for you and your spouse
a little table for holding rose petals, confetti, or ceremonial scripts
reserved signs for the seats in your front rows
the aisle runner or rug
a unique welcome plaque
Flowers & Styling: An Expert Wedding Ceremony Stylist
Flowers & Styling by Felicia strives to make you smile at the end of a memorable day. When you engage Felicia's designers with the planning of your wedding ceremony styling, you are giving them the responsibility of making your fantasy into a true fairytale. This is accomplished by Flowers & Styling through meticulous planning of every detail and adding your particular preferences and style into your wedding's theme.
Beautiful marriages need a lot of work. Flowers & Styling has years of expertise decorating weddings, so they can guarantee that your big event runs smoothly and has the WOW factor it needs. They mostly assist with the execution of wedding plans and décor with elegance. They also provide full wedding planning services and administration on the big day.
A wedding designer is much more than just a basic event designer, and a wedding planner is much more than just a typical event organiser. Flowers & Styling can help you create the event of your dreams by taking the worry out of styling your wedding ceremony, owing to their knowledge and experience in event designs. They are aware that brides and grooms want their wedding day to be unique and distinctive. They want to liven up your perfect wedding day because they are by far the most well-liked wedding decorators in Sydney. Their goal is to create an amazing event that you and your guests will remember for a very long time. Flowers & Styling by Felicia promises to use their tried-and-true techniques to provide you with the perfect wedding ceremony styling.
The intricacy of all that has to be done to prepare for an event or wedding ceremony may frequently overwhelm even the most organised couples or experienced event organisers. Finding the best vendors may be difficult and time-consuming, and it can detract from the fun of the event.
A knowledgeable, successful event partner might make a big impact! Together, you and Flowers & Styling will carefully choose the ideal fashion components for your unique celebration. All materials, including aisle carpets and wedding arbours, plush chairs, stylish coverings, spectacular lighting, and rented centre pieces, are provided wherever required and to the highest standards to satisfy your expectations.
Customized Wedding Ceremony Experience and Styling by Flowers & Styling
To meet different settings and personal tastes and make the event planning process as impactful as possible, a choice of ceremony styling and wedding decoration options is provided. Flowers & Styling by Felicia is a group of dedicated, knowledgeable, and meticulous designers that like planning events and celebrations and putting ideas into action. Their speciality is floral arrangements, and the combinations are stunning and alluring! As a consequence of their many years of experience arranging wedding ceremonies and organising events, you will be in the best and most elegant hands conceivable. Flowers and Styling by Felicia also offer full-service event planning to help make planning a wedding easier.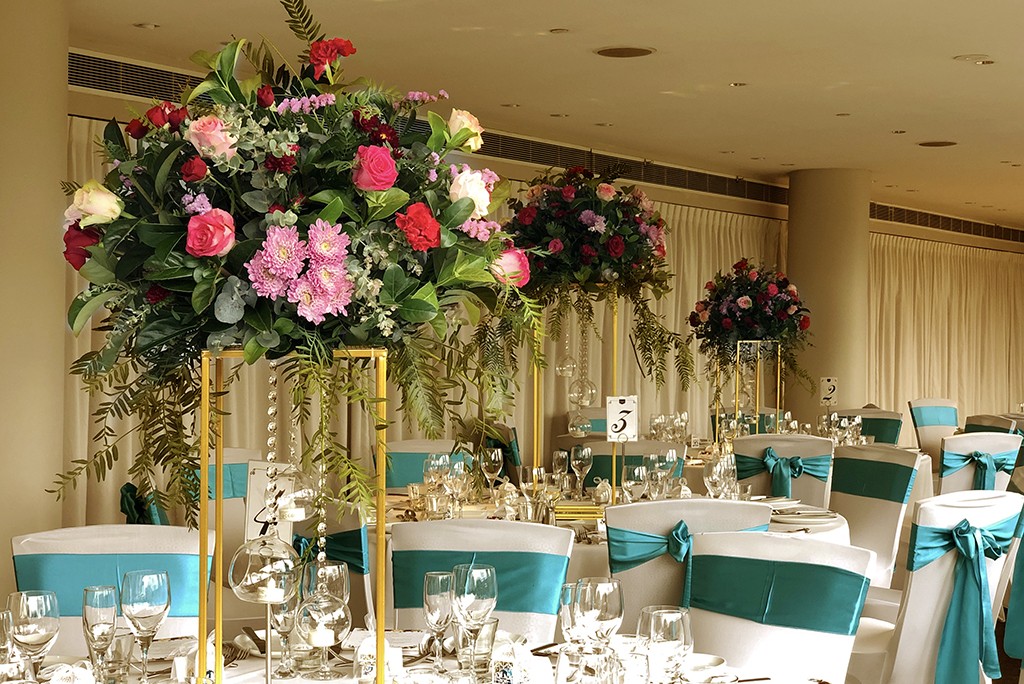 Customers who use their wedding planning services get unique and personalised experiences. With the aid of qualified and specialised partnerships, Flowers & Styling enjoys producing events that steal the show and leave guests with lasting impressions. They can decorate Sydney's unique speciality locations as well as its magnificent gardens, coastline, and dining destinations.
Personalized mood boards and mock-up sketches show how much care and consideration went into the colour scheme, flower arrangements, and aesthetic decisions for the style of your wedding ceremony. Flowers & Styling by Felicia works with you to choose the most stunning theme and style following your needs, and they only use the best, most recent flowers and other materials. Additionally, there are wedding essentials that are provided based on demands, such as an arbour, a wooden flag, a meal programme, an event fountain, postcards, and mementoes.
Flowers & Styling by Felicia works in tandem with talented planners and designers to make sure that every detail of the wedding they work on is presented to the highest standard. They provide a selection of lovely furniture and accessories that may be rented to create a modern, distinctive, and fashionable style. Their design packages are skillfully made to give the clients a range of choices based on their locations, expenditure restrictions, guest counts, and design requirements.
Please let them know if you enjoy what they do! Get in contact with them right now for a magical wedding without hassles! Flowers & Styling is excited to dress up your ideal wedding ceremony using their skills and your preferences! Enjoy discovering these unique days when visions of weddings and joyful celebrations come into reality.