No ceremony is complete without flowers, especially weddings. There are variety of alternatives, from a modest bundle to a large group. Flowers for wedding table arrangements can be difficult to choose since there are so many different kinds of floral designs.
An arrangement of flowers will be the centre point of a dining table, with all of the guests seated in front of it. Once you've chosen a wedding venue and booked chairs and tables, you'll want to think about wedding table floral arrangements to embellish the dining table throughout your wedding preparation. The wedding table decorations are a great place to start if you want to ensure that everything proceeds smoothly on the big day.
When it comes to planning, wedding table decorations are a crucial part of the process. Considering how much time is spent around the table with family and friends, it should be adorned with more care. Wedding tables that have been decorated have a certain charm to them. If you're having guests who haven't seen your family and friends in a long time, they are fantastic conversation starters, and people who haven't seen each other for a long time should not be sequestered to smaller groups. In addition to celebrating the couple, weddings are meant to be a time for friends and family to come together to celebrate. Tables can be compared to blank canvases as they're easy to customise to suit you and your partner's likes for a beautiful day with enjoyment and celebrations. Photographs of such beautifully decorated tables can be quite stunning. Wedding table decorations come in a variety of styles. With smaller, circular tables or long tables, you will be able to do things such as design table runners, create gorgeous flower arrangements, or use as many candles as you would on a wedding table.
You can use your wedding table to make your attendees feel at home, whether you're holding your wedding in the garden or a traditional foyer. Family-style dinners, where guests pass food around and choose their own servings and plates, are best served on rustic wooden tables.
A garden party theme can be achieved by decorating the table with garlands of greenery for floral arrangements, as well as mismatched plates and cutlery. Tables draped in ivory or blue for a pristine, airy aesthetic can be paired with golden elements and dark hardwood seats for an elegant affair. Consider illuminating the toasts, using hanging cafe lights or charming candelabra to generate an enchanting atmosphere. This decoration will add up more beauty to the wedding table and will give a classy vibe to the big day. Thus, there are a multitude of wedding table decorations to make the wedding magnificent. Let us have a look at the various wedding table flower arrangements that add up to the tablescape and make everything look unique.
Wedding Table Flowers
You don't need a large floral table display to bring elegance and grandeur to your wedding tables. Simply adding flowers and leaves may completely improve the look of the tables. One of the most conventional patterns is a floral arrangement on a dining table. However, flowers on a wedding tablescape say "wedding", whether they're narrow or wide or short or tall and bring out the true essence of the wedding, making it truly memorable for the couple and their family members. Read more about wedding table flowers.
Tall table flower arrangements perform well throughout the year because they can be adapted to every season. Use them for your reception as well, and save money! A large flower arrangement will create a mood for your big day and offer a beautiful depth to your decor, especially if you're planning a swanky affair. Read more about wedding table flowers. For spaces with vaulted ceilings, tall flower arrangements are a good choice and encapsulate the beauty of flowers on a tabletop.
A floral installation that hangs down the tables brings attention, aroma, and beauty. As an alternative, consider orchids if you have the budget or artificial flowers, which may be simply rented. It is possible to decorate them with vibrant blooms and lush foliage. When it comes to appearance, a hanging flower installation is similar to a ceremonial arch. Imagine how your guests will feel when they glance up and see descending roses, lavenders, or other blossoms dripping down from the ceiling. When couples wish to hide the roof and beams in a venue, this wedding table decorations concept is perfect and gives it a classy and elegant look.
Have you got a lot of room on your wedding table to make garlands? It's also possible to create the illusion that flowers are sprouting from your tabletop by building a looping strand of blossoms and greenery that extends down the length of your table. Alternatively, if you have a circle seating position, you can just hire a bunch of your favourite flowers and arrange them in a pile to establish a middle emphasis across each table. Garnitures give your tables a luxuriant look without spending as much as a bouquet. Flowers & Styling by Felicia is the best decorators to add the preferred blossoms to your tabletop decor, so don't hesitate!
You can also opt for a small floral arrangement with candelabras to give your tables a stylish and minimalist aesthetic. A simplistic wedding table design may be your best bet if you have a refined sense of style and elegance. A basic wedding table decorating implies using fewer blossoms, foliage and other decor components to create a more elegant appearance. Visitors can converse with each other from both sides of the table when the wedding table is decorated little. But be careful when selecting blossoms, as they must stand out due to their limited availability. Read more about wedding table flowers.
Flowers and floral decors are your things? Consider an opulent flower arrangement instead to give your location a stunning appearance. Use only one colour and one kind of flower throughout the design for a stylish look. Add a floral explosion to a stunning wedding venue to make it even more spectacular. In addition to providing a touch of beauty, they can also be used for a wedding reception.
Hanging table centrepieces from the ceiling is the best option if you don't want to clutter up your tabletop and opt for ceiling chompers to embellish it more. To decorate the wedding tabletop, create an awning of flowers (or lamps) and suspend them from the chandelier over the table.
Table runners
It's easy to liven up a white tabletop with a runner in the colours of your ceremony.For your wedding table runners, look for accent colours in your flowers. Tablecloths can be made out of chiffon, silk, or linen if you want to add a little bit of elegance. Lace and hessian are your closest friends if you're looking for a vintage tablecloth. Add little vases of wildflowers for a bohemian touch to your tablescape.
Textured table runners are an excellent way to dress up a plain dining table. An elegant tablecloth can be created by using long velvet strips as runners. Table runners do not have to be made of fabric. The idea of using a strong display of roses and foliage against a rustic wooden table is perfect. Clear and metallic tea lights and candelabra complement the surface.
In addition to silk and linen table runners as well as crochet and lace, why not follow the trend of fresh flower table runners? In terms of table runners, they don't have to be constructed of cloth. Just imagine how amazing your tables would appear with flowery table runners and a hardwood table beneath. Lamps or votive candles in clear jars or silver holders can be added to the runner, which is formed of a strong rose and greenery.
Fancy light decorations
Many wedding table decoration themes include multiple light sources as part of the decorations. The usage of strings and sparkling lights is a popular alternative to candle centrepieces and lanterns. However, if they are connected, they create a dreamlike atmosphere. They will always be a good addition to any venue decor. As an alternative, twinkle lights can be placed on the edges of the tabletop and draped in linen or gauze.
Do you like the use of mason jars of various sizes? Why not use them as flower arrangements on your wedding tables? They can also be used as a centrepiece, and they're a budget-friendly option that's suitable for any wedding theme. Fresh blossoms and a jute knot accentuate the appearance.
Seating arrangements with table numbers
If you want to keep track of all of your beautifully decorated tables, you'll need a way to do so, of course. When it comes to seating chart table numbers, that's exactly where they come into play. Each table number card is both elegant and stark, ensuring that your guests have no trouble finding their seats. Decorate with lamps, mossy topiaries and other interesting jars, such as bottles and bunting flags.
Decorating the table with green and white colours
For couples, the goal is to keep the decor as simple as possible while still creating a unique atmosphere. This wedding table decorations design is perfect for people who want to keep things simple. A tablescape that incorporates both white and green pieces is sure to look stunning. Even though this unique blend isn't too far out, it's timeless and won't go out of style soon. Consider using plain white runners with green pots (or vice versa).
Trays made of marbles
Assembling your tablescape using standard serving trays, such as Marble Lazy Suzan or a cake stand, can help you to accent and unify your wedding table flower decorations. Create an elegant and sophisticated aesthetic by adorning the classic marble layout with candles, flowers, or foliage.
Buds for the tabletop
One more way to spruce up your wedding tablescape is to use a chinoiserie bud vase as a floral arrangement. They give a unique spin to a single flower arrangement. There is no better way to add richness, hue, dimension, and perspective than this design. There are many methods to decorate a wedding table, but using vases is one of the most elegant methods.
A metallic finish to the tabletop
The metallic decoration is timeless and will never go out of style. Metallic materials get a certain charisma and are captivating in their ways. The metallic tabletop decor is a great way to get your guests' attention. If you want austerity, then a few metallic floral centrepieces will be enough. On the other hand, if you want to add a glittering aspect to your nuptials, choose metallic dinnerware and tableware.
Decorating with Charcuterie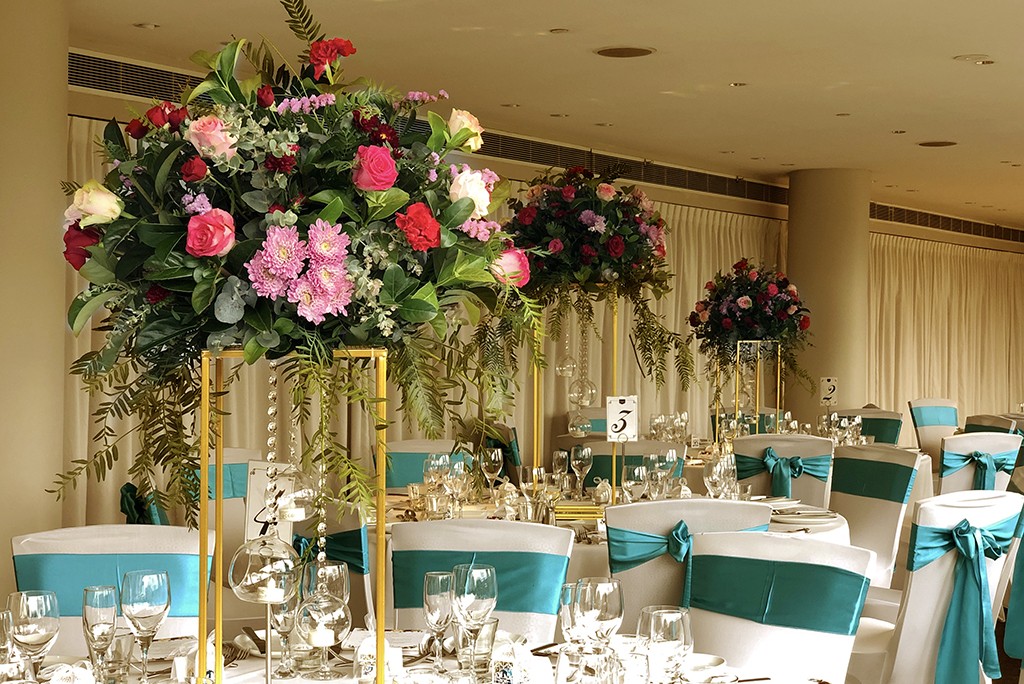 Charcuterie wedding tabletop arrangements are an excellent alternative to spending a fortune on flowers at your wedding. When it comes to entertaining friends and family, this is a great option. This will give an ethereal ambience to the wedding venue and make it look dreamy.
Table Lamps
Simple table lamps are a great way to create the impression of a classic look on your tabletop. If you don't want to use fresh flowers, you can opt for this fantastic idea. The easiest approach to hide cords is to encircle the light with flowers or vegetation.
Confetti for the table
The custom confetti is the best! These table confetti pieces come in nine different colours, comprising golden, silvery, and many shades of glitter, and may be customised with any names or brief messages you desire.
There are several ideas to make your wedding table beautiful. But while we consider different wedding table decorations, there are different kinds of tables which are used according to the need. This encapsulates various wedding flower arrangements in a wide variety of patterns and forms. Let us have a look at the wedding table decorations!
Round table decor
Traditionally, round tables have been used during weddings. Round tables can be fascinating to adorn and provide a cosy atmosphere for guests embellished with linen and satin table runners on them. Flowers, magnificent centrepieces, and elegant tableware can be used to decorate your circular tables. This can create a dreamy atmosphere for your wedding venue. Just be careful that it is in tune with your other wedding decors.
Rectangular table decor
Instead of using round tables, employ small rectangular or square ones for your intimate wedding. These little rectangular tables are both stylish and refined, and they provide your visitors with a comfortable place to eat. Their capacity ranges from 2-6 persons, and they are easy to adorn. They would look stunning at your wedding with the love of your life!  
Decorations for long tables are in style
Long tables, on the other hand, not only appear very elegant, but they also have several advantages over the usual compact tables. Guests can easily be grouped with the help of these wedding staples. These wedding tables are rectangular, which gives them a more family-like atmosphere while still appearing wonderfully romantic. Wide, rectangular buffet tables are a great alternative to typical circular tables. A grand wedding with many guests or a smaller event with a strong family atmosphere can benefit from this option.
Long tables can be used to keep guests together at smaller nuptials, while larger wedding ceremonies can make use of their area by arranging aisles all around the venue. When it comes to wedding receptions, the long head table is a popular choice, even if you're not a fan of banquet seating. Saving money on table runners and floral arrangements are made easier by using this strategy. As opposed to circular tables, long tables tend to pop out and be unique. In addition, you'll be able to connect with a greater number of guests.
As a highlight, wedding table decorations are essential. Because the wedding seat decorations, wedding table décor and other design items must match the wedding theme to create a coherent and complete effect. This means that you must arrange these elements to ensure that they come together in a way that is both gorgeous and spectacular. As a result, if you want your wedding to be distinctive and exquisite, make sure that all of these things are in harmony with one another.
Determining what you want for your wedding's decor might be one of the most fun aspects of wedding planning. Choosing wedding table arrangements, spanning floral decorations to table runners and anything in between is important since it allows you to exhibit your wedding theme, colour scheme, and innovation.
To make your tables as beautiful as the rest of your décor, you'll need to invest as much time as you would on the rest of your decor. Tablescapes with contrasting highlights and complementary colours can be a great way to create aesthetic value to the decor. Once you finalise what you want to include in your wedding table decorations, it's time to choose the best wedding decorators who can create magic in table decorations. Flowers & Styling by Felicia is the best wedding table decorators with a penchant for floral arrangements and is passionate about unique and stunning wedding decors.